The TrueNorth Award
The TrueNorth Award was developed to recognize facilities that use certification as a "true north," guiding their perioperative nursing staff to be lifelong learners, models of competent practice, and advocates for excellence and patient safety. Facilities that earn the TrueNorth Award exhibit the highest standards in perioperative certification excellence.
The TrueNorth Award consists of:
• $1,500 for a celebratory reception
• Reception presentation by CCI leadership
• A commemorative recognition plaque
• Free Professional Development Activities for Staff
• Press release and other CCI communication initiatives
2023 Winner: Inova Heart & Vascular Institute Cardiovascular OR
2022 Winner: National Institutes of Health-Clinical Center
2021 Winner: Navy Medicine Readiness and Training Command San Diego
2020 Winner: Baylor Scott & White Medical Center - Pflugerville
2019 Winner: Arnold Palmer Hospital for Children
2018 Winner: Reading Hospital SurgiCenter at Spring Ridge and VA Southern Nevada Healthcare System
2017 Winner: Stamford Hospital, Stamford, CT
2016 Winner: Doernbecher Children's Hospital, Portland, OR
2015 Winner: St. Clare Hospital, Lakewood, WA
2014 Winner: Memorial Hermann The Woodlands, Woodlands, TX
2013 Winner: Abington Memorial Hospital, Abington, PA

Eligibility Requirements
Healthcare organizations that employ certified perioperative nurses or have certified perioperative nurses as members and/or representatives are eligible to apply for this award. Organizations include but are not limited to, hospitals, health systems, surgical services departments, ambulatory surgery centers, units or divisions of a larger organization, and AORN chapters. Organizations that employ any member of the CCI Board of Directors or CCI staff are ineligible. Self-nominations are acceptable.

Important Dates
October 1, 2023: Applications open

November 30, 2023: Applications close

Q1 of 2024: Applicants notified regarding results



Components of Application Packet
1. The Five Elements of Nursing Specialty Certification
Description and documentation of evidence about how each element is demonstrated

The five elements include Structure, Recognition, Professional Engagement, Dissemination, and Volunteer Service.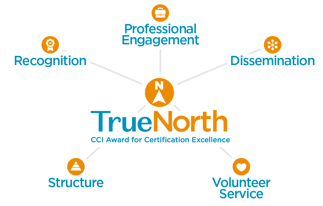 2. Certification Ratios
Numerical reflection of the number of FTE perioperative nurses who are eligible to be certified in comparison to the number of FTE perioperative nurses who are certified.
3. Documentation of Leadership Support
Letters from the CNO and Director of Surgical Services (or Manager) that describe facility support for certification
4. Narrative
Impact of Certification Narrative describing and documenting accomplishments achievements, to include citation of specific examples
(Note: Detailed information about each of these components is included in the scoring rubrics).

TrueNorth Scoring Rubrics
Check out our webinar to learn more about the TrueNorth application process! Should you have any questions, we welcome you to contact Benjamin Dennis at bdennis@cc-institute.org.
2023 applications are closed. Fill out the form below to receive a reminder email when 2024 applications open!

---